Bitcoin (BTC) has officially crossed the barrier of $60k a few days ago. This is a huge feat for the BTC and the market in general that it has recovered after such a strong crash. The way to $60k was not a streamlined one. The way had a lot of choppy price action that had liquidated a lot of traders. The rise from $29k, the drop from $48k, and the drop from $52k have contributed a lot to the liquidation of the traders.
---
3 Tiny Stocks Primed to Explode The world's greatest investor — Warren Buffett — has a simple formula for making big money in the markets. He buys up valuable assets when they are very cheap. For stock market investors that means buying up cheap small cap stocks like these with huge upside potential.

We've set up an alert service to help smart investors take full advantage of the small cap stocks primed for big returns.

Click here for full details and to join for free
Sponsored
---
People have tried their best to predict the bottom of BTC, but with the amount of money the people have lost its safe to say that technical analysis has definitely failed a lot of people. Some people got in early and some people have kept waiting for the dip.
What is Next?
Now that BTC has crossed the biggest hurdle in its way. BTC crossed the $60k mark zone after the ETF news got released that hinted at the ETF going live in this week. The only thing left for BTC is to smash the All Time High and cross it eventually going into price discovery. So what s next now? How Will Btc react? Let us have a look and draw out the possible scenarios.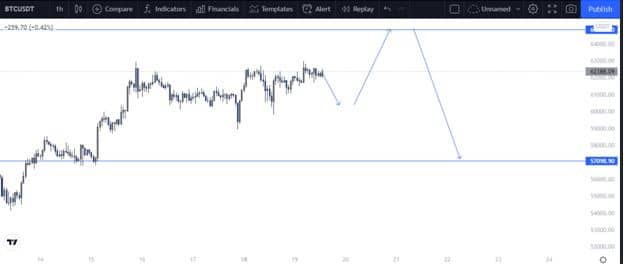 This is what I am expecting at the moment from BTC. We need to see that there are two unmitigated areas in the whole price action. The first one is the zone where the arrow ends that shows the bearish short term price action. It has been that this zone has acted as support for the price before too. The price stayed above this level for a few days before a Stop Hunter that eventually lead to the price near the top .
The next move is probably near the top $64k price zone that is going to act as a resistance for the price. This zone has a probability to push the price even further down that will result in the breaking of the previous support zone too and drive the price down to the level of $57k. Another confluence for the price to move down here is the fact that this zone has unmitigated areas that can be touched by the price.
Bull Run
People are expecting BTC to reach the price of $85 before the bull run ends. It seems realistic to have such a number in mind.