EOS being ranked at number 42 according to coinmarketcap data is being traded at around $4.73 at the moment. The coin has a decrease of almost 2.27% within the last 24 hours. The high within this the price reached was $4.95 and the low was marked at $4.62.
The coin has a trading volume of around $1,222,192,235 with an increase of almost 23.16% in the last 24hours. The Circulating supply is now equal to 961,267,944.56 EOS
EOS reached its all time high back in May where it gained a figure of $14.90 and afterwards the price has retraced back to $3.039 as BTC confluence over this coin was pretty strong. This month an increase of 20.05% has been observed and is expected to increase further in the coming months
The top exchanges for trading in EOS are currently Binance, Huobi Global, OKEx, Mandala Exchange, and FTX.
Technical Analysis:
Starting from the higher time frame, the monthly frame shows that EOS is really actually at a discount array, where buys are preferred. Recently a move spiked quite to the upside, which was rapid bullish candles, but those were totally retraced by the price, leaving price in the bottom again.
Moving to the daily as there isn't much evidences on the weekly time frame for EOS. The price at the moment is not much trending to either side. It is more of a consolidating currently.
Viewing the previous behavior of EOS, on 7th of June, price created a supply pattern i.e. drop base drop, which price reacted from on 16th of august later on. In between these, a shift in market structure was observed which made the intentions to a bullish side. Once price reacted from it, soon it violated that zone and did a stop hunt of this zone as these were quite much of equal highs. Once price did a stop hunt, it had enough potential to move price aggressively to either direction, which it did to the downside. This aggressive fall, left imbalance within the candle creating an order block which till date is unmitigated.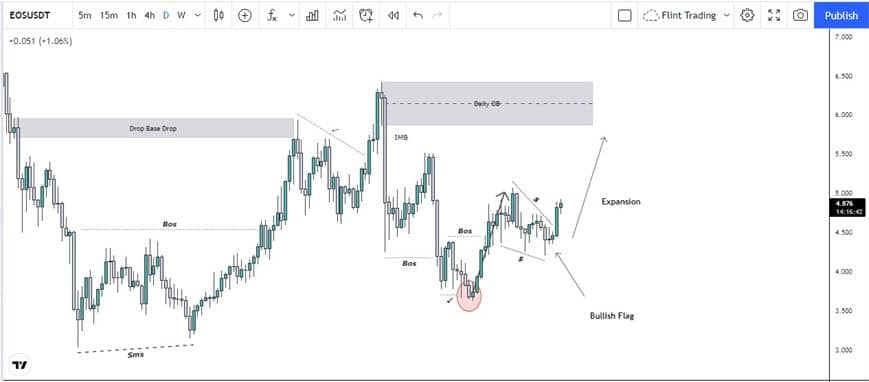 Price after this move was breaking to the downside till 2nd of October, when price shifted its structure shifting the anticipation of price towards upside.
Now looking at the chart EOS shows a pattern i.e. pole flag expansion which still is intact and another leg of bullish move can be expected. As being liquidity, imbalance and mitigation block to the upside, it is likely that price will rally up in the coming days.
The equilibrium of the above orderblock can be considered as a reliable target. An invalidation point will be, if in case, price breaks the previous Low which is around $3.631, buys won't be preferred anymore, as price intention would be clearly bearish.