Current and Past Movement
At the time of writing QNT is being traded at the price of $286.49. It has had a decrease of 10.69% in the past 24 hours. QNT is listed at 47th spot on coinmarketcap according to dominance i.e. 0.14%. In the past 24 hours, the trading volume has increased by 18.66%. QNT created its ATH in September 2021 and reached a price of $429. During the crash, QNT was one of the few coins that didn't drop down and its all four months have been bullish. This month for the price has somewhat been slow and is showing an overall decrease of just 1.18%. Even though the price went to $344 this month.
25-cent Stock Takes $11T Commodities Sector Digital

One brilliantly-run technology firm has successfully partnered with some of the largest players in the industry to bring a first-of-its-kind digital solution to the global commodities supply chain sector. Best of all, this upstart technology firm is currently trading undiscovered — below 25-cents per share — so very, very few investors know about it yet! For investors… it's an early-stage opportunity in a company that's bringing the US$11T global commodities sector straight into the 21st century.

All the details are in the FREE online report you can get here.
Sponsored
Technical Analysis QNT
On a monthly time frame, we can see that the price had been extremely bullish. QNT was printing green candles even when the whole market was at the bottom and Btc was being traded at around $30k. I June QNT gave 55%, July 96%, August 35%, September 58%. On a weekly time frame, we can see that QNT printed a high during a week. That move is being corrected right now and is showing a very move. Currently, the market is residing at 61 level of Fibo.
On a daily time frame, we can see that the market is creating a bullish flag pattern. It might be possible that this pattern unfolds into a pole flag pattern which will eventually push the price upwards. We can see that there is a lot of liquidity present at the bottom. We can expect QNT to create an AMD pattern to grab this liquidity. Market can go into a manipulative phase from this accumulation phase to grab the liquidity and then the price can expand towards upside to carry out the distribution phase.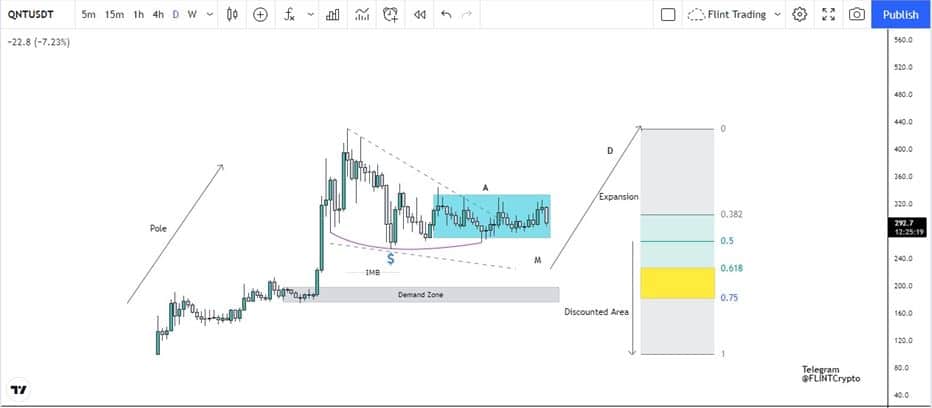 We can also see that there is an unmitigated demand zone that is also in align with Fibo's golden zone. If the price goes into the manipulative zone it can be expected of QNT to drop down to this level and mitigate this area. It can also reverse from the imbalance zone above the demand zone. This will be much clearer in the future.
Price Prediction Quant (QNT)
According to wallet investors, Quant is a really good investment and will provide a good return to its investors. In one year the price is expected to reach a level of $628. In a five-year plan, the price is expected to reach a level of $1969.