Current and Past Movement
At the time of writing WOO is being traded at the price of $1.18. It has had a decrease of 5.83% in the past 24 hours. RUNE is listed at 126th spot on coinmarketcap according to dominance i.e. 0.02%. In the past 24 hours, the trading volume has decreased by 34.80%. WOO created its ATH three days back on 27th October 2021 and reached a price of $1.40. During the crash, RUNE created a bottom around the price of $0.28253 during the month of May from where it showed reversal. This month and the previous month have been bullish for the price and have had an increase of about 42.74% and 37.33% for September and October.
Technical Analysis WOO Network (WOO)
On the monthly timeframe, we can see that for the past two months has been printing green candles and recently went to its all-time high so it is very likely that the market will do the correction. On the weekly timeframe, we can see that it had rejected from its all-time high. So it is very likely that it will close the pin bar candle. This anticipates that the price will drop down.
On the daily timeframe, we can see that there is a rejection area marked from where the market has rejected many times and as a result has started to create a double top. This indicates a bearish reversal (monthly and weekly also called for correction). Market has also grabbed the liquidity which has provided fuel to the price to rally to one side. Now we can see that the price is in the accumulation phase so we can expect a manipulation phase that can push the price to the upside to grab the liquidity present above and then distribute by falling down. At the same time, we can see that harmonics is being played out to form an ABCD pattern that tells us about the end of the trend line.
These many confluences tell us about the shift in trend structure with a possible manipulation phase with the first target to be around the price of $0.91660.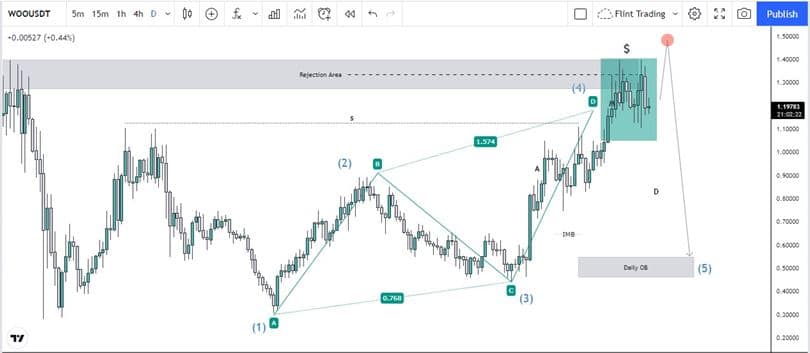 Future Predictions
Wallet Investor is highly bullish on the price of Woo and according to them, it is a sound investment. According to their predictions, Woo can reach a price of about $5.191 in a span of one year. For a five-year investment plan, Woo can reach a price of about $21.271.