The native token of Holo is named HOT. At the time of writing HOT is being traded at the price of $0.0146. The price has increased by almost 12.01% in the past 24 hours. The daily trading volume of HOT has decreased by almost 57.44% today. HOT is listed on coinmarketcap on the 65th spot and has a market dominance of about 0.09%. The past month i.e. October just like a lot of other coins has been bullish for HOT and we have seen an increase of about 77.02% in October. HOT had created its all-time high around the price of $0.03160 in the month of April 2021. The maximum supply of HOT is around 177B HOT while the circulating supply is around 172.9M HOT (according to coinmarketcap). Nearly all the coins are in circulation now.
Technical Analysis Holo (HOT)
On the monthly time frame, we can see that the price has been bullish and showed a reversal from its bottom. The price has increased by almost 77% in the past month alone. With November starting its been only a few days and would take more days to notice how this monthly candle closes.
On the weekly candle, we can see that the price is still in the bearish structure. It still hasn't crossed the lower high of 26th April. As a result of the higher time frame, we still are bearish on HOT.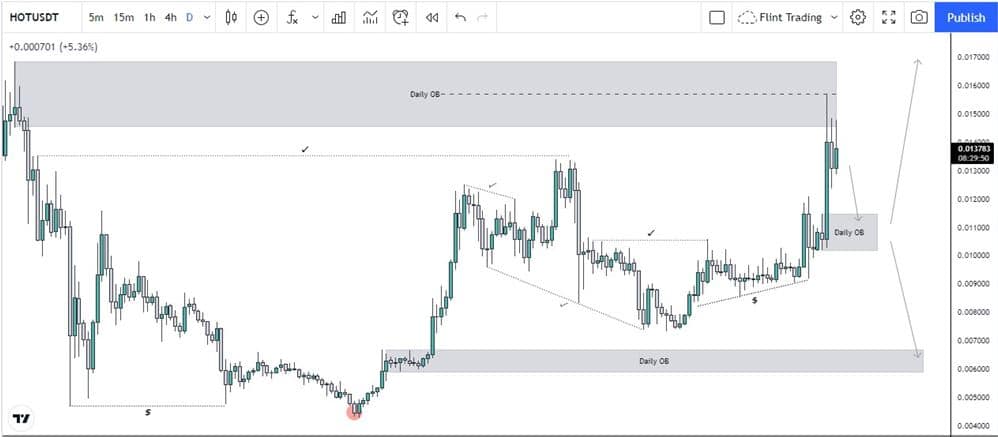 On the daily time frame, we can see that the price got rejected from the daily order block that is placed at the key market structural point (Breaking this would shift the market structure). But right now the price got rejected and it can drop down to the daily order block. How the price is going to react at that level is going to take some time to unfold. If the structure holds then HOT can have another shot at the daily order block placed above. If it doesn't hold then we can expect the price to drop down and we can expect a reaction from the bottom.
Long Term Investment
According to wallet investors, HOT is a very good investment. In a one-year plan, HOT is expected to reach a price of  $0.0218. In a five-year plan, HOT is expected to reach a value of $0.057 which is almost four times what it is being currently being traded at.