The coin where technical analysis of many traders have failed and Solana have continued to print green candles to achieve a new all-time high.
The native token of Solana network is SOL that supports the whole system. At the time of writing SOL is being traded at the price of $232.05. The price has increased by almost 12.50% in the past 24 hours. The trading volume has also increased by almost 130.08% today. SOL today has just created its new all-time high and achieved a price of $235. SOL is one of the highest gainers today. SOL is listed on coinmarketcap on 6th spot and has a market dominance of about 2.53%. The past month has been extremely bullish for the price. In October we saw an increase of about 43.23% in the price of SOL.
Technical Analysis Solana (SOL)
On the monthly time frame SOL has been one of the most bullish coins in the market. On the weekly, it becomes quite visible how the price is showing bullish strength, and the fact that Solana achieved a new all-time high today is visible proof of that.
We can see the price grabbed the liquidity from both sides. Now that the coin is in price discovery, it would be better for the price to creating strong support at this point.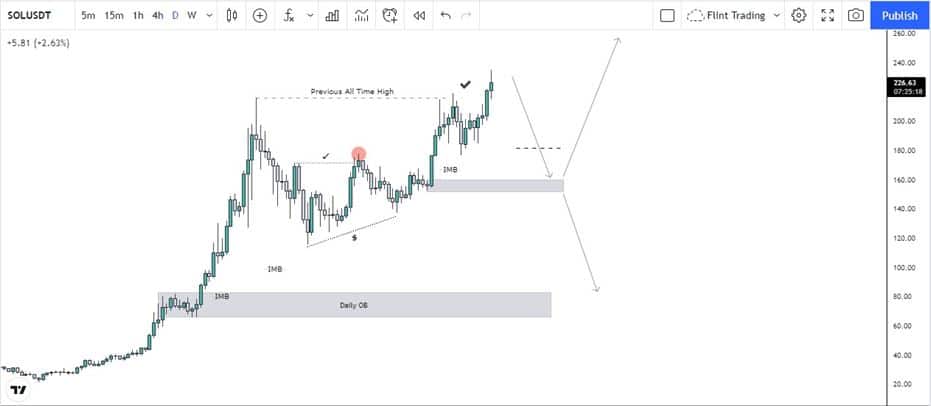 Now the only thing that can drive the price down is the presence of the imbalance and the order block below. The price may retrace down to that level, even if it is just by a wick. But current price movement is not enough to see how the price will unfold in the future. But Sol will try to establish a new support around the previous all time high.
Long Term Investment
In May 2021 SOL was being traded at the price of around $19 and now it has nearly done almost 20 times from the bottom that it had created. SOL has a limited supply of about 507M SOL and the current circulating supply is around 300.9M.
According to wallet investors, SOL is a very good investment. In a one-year plan, SOL is expected to reach a price of  $507.9. In a five-year plan, SOL is expected to reach a value of $1863 which is almost eight times what it is being currently being traded at. Solana is one of the most bullish in the future.