The native token of Polygon is MATIC. MATIC is used as a governance token and is used to pay the transaction fees happening on the Matic ecosystem.
At the time of writing MATIC is being traded at the price of $1.98. The price of MATIC has decreased by almost 3.96% in the past 24 hours. The daily trading volume has decreased by almost 27.30% in one day. MATIC is listed on coinmarketcap at 19th spot according to market capitalization and has a market dominance of about 0.49%. MATIC has one of the highest trading volume.
Matic had achieved its all-time high around the price of $2.70 during the month of May 2021 before dropping down to the price of $0.621. Just like many other coins last month was very bullish for the price.
Technical Analysis – Polygon (Matic)
On the monthly time frame just like the other coins, Matic has been bullish for the last month. MATIC increased by almost 71.90% in the last month. This monthly candle is also green. On the weekly time frame, the price has broken above the May and June's high and closed above meaning the price is bullish now.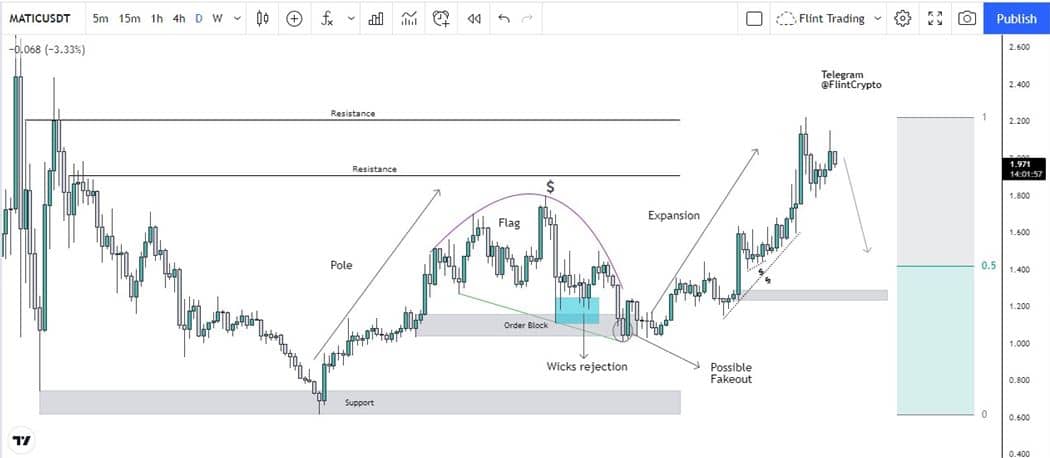 On a daily, we get a clearer picture of how the price is unfolding now. The price created a pole flag pattern before, grabbed the liquidity, and then went on to create the second pole. Now expecting the same fractal we can expect the price to create another flag pattern just like before. The price of MATIC has already broken above the first resistance and it had tried to bounce from there. But the price got rejected from the second resistance zone and is now dropping showing an additional confluence how the price can drop down to the lower order block. But overall the price is bullish and we can expect retracement which is healthy for the market.
Long Term Prediction – Polygon (Matic)
According to wallet investor, the price of MATIC is a good investments and will provide good returns to the investors. According to their predictions, MATIC will reach a value of $3.551 in one year. For a five-year plan, MATIC is expected to reach a value of $10.134. The way Polygon has taken the whole market by storm we can expect it to be highly bullish in the future with such strong fundamentals.