Price Movement – ChainLink ( LINK):
ChainLink is one of the most promising projects. At the time of writing LINK is being traded at the price of $34.17. The price of LINK has increased by almost 6.16% in the past 24 hours. The daily trading volume has also increased by almost 49.21% in one day. LINK is listed on coinmarketcap at 14th spot according to market capital and has a market dominance of about 0.56%.
LINK before the crash had achieved its all-time high around the price of $691.8 in May 2021. It later fell down to the price of $211.7 during the crash and showed reversal from there. As compared to other coins LINK has been one of the fast gainers and is now on its way to creating a new all-time high.
LINK has a total supply of 166.8M tokens and has an equal circulating supply of 166.8M coins. LINK can be traded at a lot of different exchanges such as Binance, OKEx, Huobi with different trading pairs.
Technical Analysis ChainLink (LINK)
The price of Link had been consolidation for quite a time. Once the structure was shifted from bearish to bullish move, a good volume got induced within the market but was not able to keep the bullish order flow consistently.
The price started ranging, it did stop hunted above that, and it repeated this move to the downside as well. Just to clear out liquidity around this range. Within this range, the price created an Order Block which was continuously tested and filled by the price. That made that Order block very weak which resulted in an invalidation of that supply zone and price is likely to continue to the upside for some time.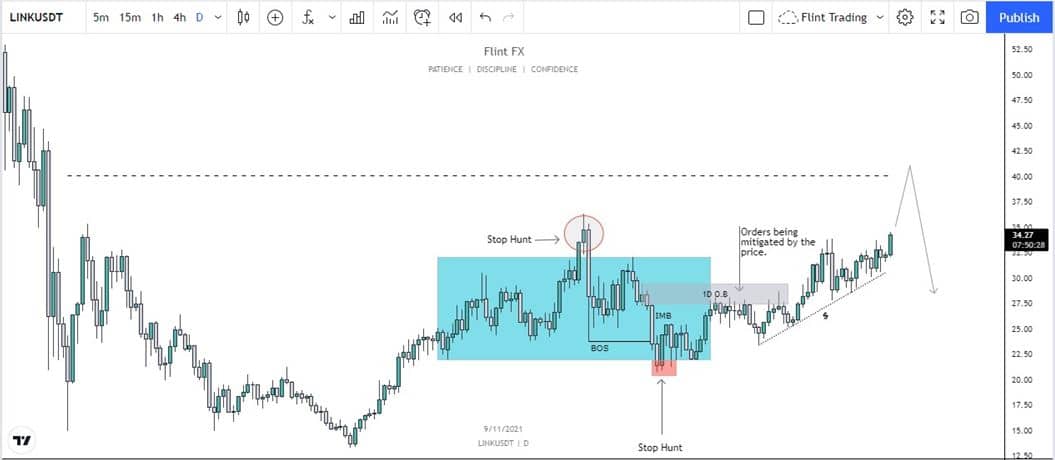 More to that, the price doesn't broke this Supply zone quite momentously. The volume of buyers is somewhat equivalent to bears. If this momentum was high, the price would have the potential to go higher at $52, but with this momentum, it is likely that it would reverse from $42 after doing mitigation of the daily order block.
Long Term Prediction – ChainLink (LINK)
According to wallet investors, the price of LINK is highly bullish in nature and is a safe investment and the exchange would continue to grow more and more. According to their predictions, LINK will reach a value of $51.617 in one year. For a five-year plan, LINK is expected to reach a value of $125.123.