According to coinmarketcap, the total supply of MINA is around 824M MINA and the circulating supply is around 290.3M MINA. MINA holds the 79th rank according to market cap.
At the time of writing MINA is being traded at the price of $5.50 with an increase of almost 38.10% in the last 24 hours. Mina has been one of the top gainers today. The maximum and minimum today are $6.68 and $4.26 respectively. The daily trading volume has also increased by almost 2000%. MINA had created its ATH on 14th September 2021 and reached a price of almost $6.495. The price quickly regained the last value and today has achieved a new all-time high. The past four months have been highly bullish for the price and we saw an increase of about 35% in the price. As such Mina has quickly gained its way to the top 100 cryptocurrencies so fast.
Technical Analysis – Mina (MINA)
Mina (MINA) broke out of the descending correction wave and shot upwards. In a matter of two days, MINA had printed big green candles that took the price over the four-hour order block and achieved a new all-time high.
But soon after this the price got rejected from that level and retraced down back to a lower level. Overall the price has now broken out of the structure as it is now above the higher high.
Two point of interest are here, the first is the 4H order block above and the second is the daily order block below. The price can range between these levels. If any of these levels is broken then we can start talking about different ranges. Right now we have these two ranges to play with. If the price goes down to the daily order block we can expect a visible pump in the price. But that can happen after the price touches the 4H order block again.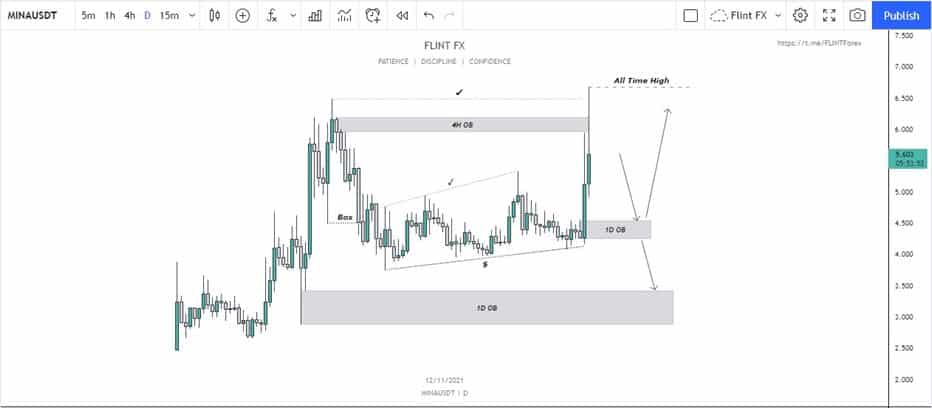 If we get a rejection from that area then we can expect the price to dropdown.
Long Term Price Prediction -Mina (MINA)
Mina has been described as the world's lightest blockchain. The way it is growing is massive. As a result, we can expect growth in the price in the future. According to different sources, Mina is expected to reach a value of between $15 – $20 in a year and a lot more in the five-year plan.