According to coinmarketcap, the total supply of NEXO is around 1B NEXO and the circulating supply is around 560M NEXO. NEXO holds the 75th rank according to market cap.
At the time of writing NEXO is being traded at the price of $3.56 with an increase of almost 9.85% in the last 24 hours. NEXO is a really strong token fundamentally. The maximum and minimum today are $3.67 and $3.22, respectively. The daily trading volume has also increased by almost 182.55%. NEXO had created its ATH May 2021 and reached a price of almost $4.120. The price later dropped down to a price of $1. The past two months have been highly bullish for the price and we saw an increase of about 89.94%, 29.52% in the price. The price has done almost three and a half times from the bottom.
Technical Analysis – NEXO (NEXO)
NEXO has been a highly bullish coin, and we have seen immense strength from the project. The market did a really explosive move after it broke the structure. For a number of days, the price kept increasing, which ultimately led NEXO to go into the correction phase.
In this phase, the market kept correcting the move it had done. Overall, the higher time frames for NEXO is bullish as the price is printing higher highs and higher lows. The market was clearly moving between a range and this range is touched again by today's green candle.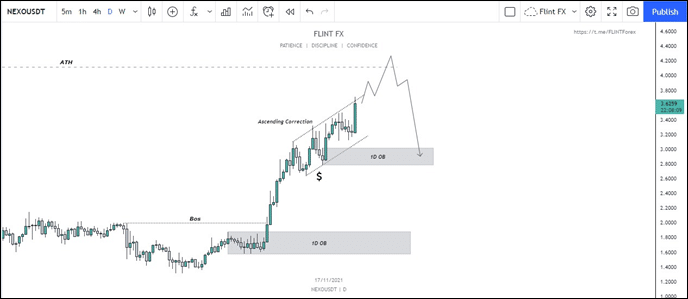 I am looking for a move up and outside the box and a drop to retest the trend line again. The resistance at this point for NEXO is at an all-time high. We can expect NEXO to break up towards the all-time high. A possible scenario is the candle wicking above the all-time high but closing below due to the selling pressure. This may drop the price down to the lower order block that has been created from where the whole move has been initiated.
Price Prediction – NEXO (NEXO)
NEXO is a really strong token. After the launch of their fan tokens, we have seen a huge amount of gain in the price. As a result, we can expect growth in the price in the future. According to the wallet, investor, NEXO is expected to reach a value of around $5.12 in a year and is expected to reach a value of $12.572 in five years.