At the time of writing, TRX is being traded at the price of $0.1238. The price of TRX has increased by almost 6.71% in the past 24 hours. The maximum and minimum of the day are around $0.1291 and $0.1156. The daily trading volume has also increased by almost 31.36% in one day. TRX is listed on coinmarketcap at the 25th spot according to market capital and has a market dominance of about 0.32%.
TRX has a total supply of around 100B tokens and has a circulating supply of around 71.66M coins. TRX can be traded at a lot of different exchanges, such as Binance, OKEx, Huobi with different trading pairs.
Technical Analysis – Tron (TRX)
Starting from the monthly, the price got rejected very strongly by the closing of that candle, which created the all-time high. Bears are interested in these wicks. Moving down to the weekly time frame, the price created a pinbar at the moment, which is more of a reversal sign, especially at this supply zone. As previously in the past, much momentum of bears was seen.
Jumping to the daily, firstly if structures are observed, the price is clearly breaking them to the topside. The last low is around $0.08872 and the high is actually being formed at the moment. So unless and until this low doesn't get violated, the price would be in a bullish structure. Secondly, it can be seen that there is some sort of trendline liquidity when the price was pushing up, this can be a target for price sooner. Now price is just around the daily order block and just a few spaces below, the price started to reject, which is a shift in structures on the lower time frame.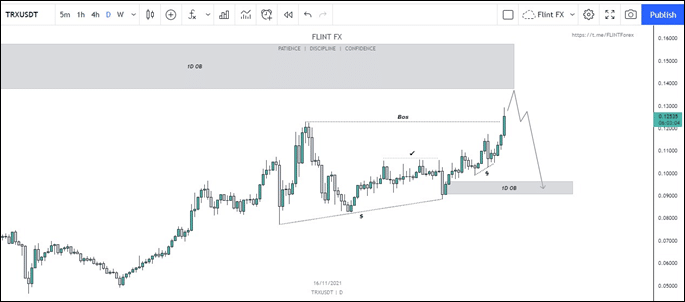 In here, two possible scenarios can occur. The first one is price continues to go above and once it reaches the daily order block, possible shorts that can be taken till the below order block. The second is the opposite of it, if the price fails to reach above and falls down to the daily order block at $0.09645, possible longs can be taken till that above order block.
Price Prediction – Tron (TRX)
Tron (TRX) is one of the highest used blockchains and, as a result, it is considered a good investment. According to the wallet, investor TRX is expected to reach a value of $0.185 in one year. In five years, TRX is expected to reach almost $0.448. But investors think that the price will go much higher than the one which is expected.