Current and Past Movement
At the time of writing AAVE is being traded at the price of $344. It has had an increase of 4.77% in the past 24 hours. AAVE is listed at 42nd spot on coinmarketcap according to dominance i.e. 0.19%. In the past 24 hours, the trading volume has increased by 580%. AAVE created its ATH in May 2021 and reached a price of $664. During the crash, AAVE created a bottom around the price of $170 during the month of June from where it showed reversal. This month has been bullish for the price and has shown a gain of about 23.27%.
3 Tiny Stocks Primed to Explode The world's greatest investor — Warren Buffett — has a simple formula for making big money in the markets. He buys up valuable assets when they are very cheap. For stock market investors that means buying up cheap small cap stocks like these with huge upside potential.

We've set up an alert service to help smart investors take full advantage of the small cap stocks primed for big returns.

Click here for full details and to join for free.
Sponsored
Technical Analysis AAVE
On a monthly time frame, we see that the price has done a  bullish move. The price dropped and mitigated almost 50% of the move. As a result, it was likely that AAVE will move up but the closure of the monthly candle was rejected showing the formation of a potential double top that can result in dropping the price down.
If we look at the daily chart we will find that the price recently has had a spike up but it wasn't able to sustain that level meaning that it is probably going to below. If we divide the whole chart then you can see the trendline that is actually signaling the shift in structure. As long the price is below this level we can see that the price wasn't bullish. Before the drop, we could see that the price had bounced three times from this trendline but it eventually broke down. As a result, there is a huge amount of liquidity present on the upper side that needs to be grabbed. This retest is a confluence of the market to drop down. As a result, the liquidity that was present due to the triple top has been grabbed today.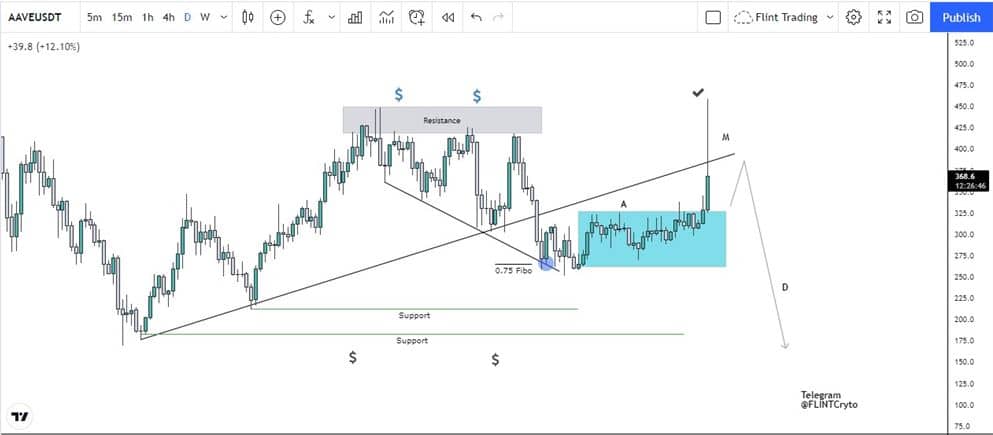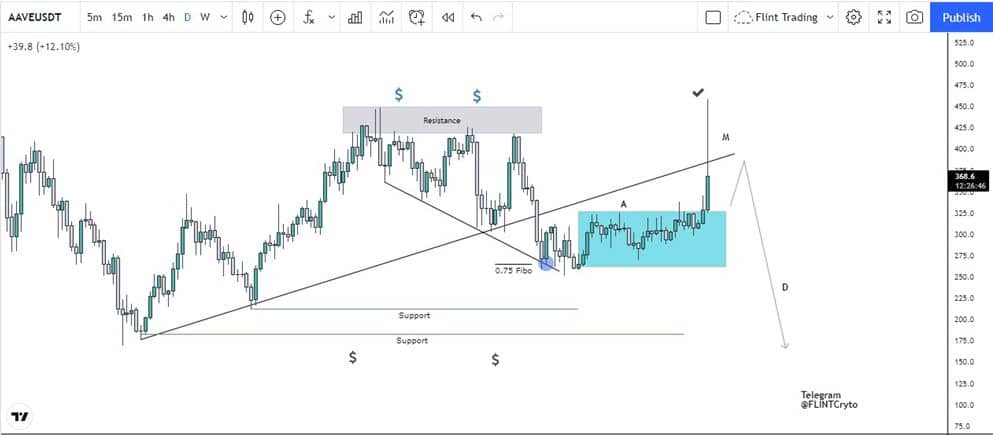 Now that the liquidity has been grabbed the chances are the price will try to retest the line and then drop down to grab everything at the bottom.
Future Predictions
AAVE has surely tapped into the mindsets of the investors. It has provided them something that's why they are keeping an eye on it. For the long-term investment plan, AAVE is surely a good investment. For a one-year investment plan, the price is to be expected to reach a level of $537 and for a five-year plan it is to reach around $1430.