Technical Analysis:
Starting from the monthly, the price after makings its new all-time high, fell down and went in a correction phase. Now when the price tapped in around 61.8 level of Fibonacci, strong buyers pressure was seen. This monthly candle closed in a bullish engulfing and a strong one as it engulfed the last 4 month candles. Now ideally in case of such engulfing, the next candle usually mitigates at least 50% of that candle, more or less can be seen.
Jumping to the weekly time frame, it can be seen that NEXO has tapped in an imbalance zone which was lying around in the 17th may candle. Price has been rejected from that zone meaning sellers might be interested now.
Moreover, in the previous week, the price gained almost 56.14% while this week it was only able to gain a percentage of 5.82% which totally means that the momentum of buyers is likely to be very less as compared to what was before.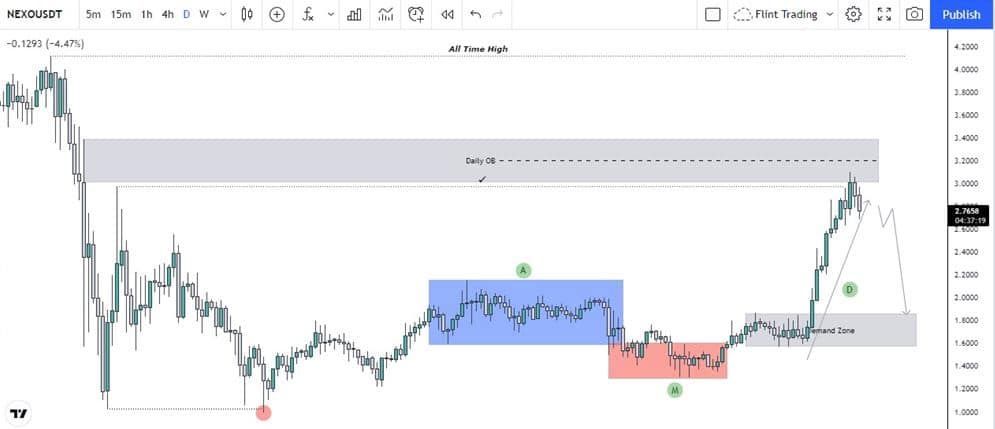 Now moving to the daily time frame, it can be seen that NEXO did engineer and took out that liquidity before tapping in the above imbalance of weekly or order block of daily, which provides the price with the necessary fuel for going down.
Besides that, according to a cycle of smart money, this move was an expansion move and the price is likely in a distribution phase, so a fall soon is to be expected. The last confirmation is yet to be waited for. A structure shift needs to be observed i.e. the level of $2.6265 needs to be broken in order for the price to have a shift in structure. If this unfolds accordingly, on the retest, possible shorts can be taken.
Now if the structure shift doesn't occur, the trade is totally invalid and then it would be very likely that NEXO will continue up to the all-time high and even make a new one.
Price Movement
At the time of writing NEXO is being traded at the price of $2.76. Of the top 100 coins, NEXO has shown one of the highest drops today with a drop of 7.86% in the past 24 hours. The daily trading volume has also decreased by almost 14.49%. NEXO is listed on coinmarketcap on the 77th spot and has a market dominance of about 0.06%. NEXO created its all-time high around the price of $4.12 during the month of May 2021.