The native token of the Cardano blockchain is ADA that is used. At the time of writing ADA is being traded at the price of $1.973. The price has increased by almost 2.0% in the past 24 hours. ADA is listed on coinmarketcap on the 5th spot and has a market dominance of about 2.48%. The past month as opposing to a lot of other coins has been bearish ad we have seen a decrease of about 7.14% in October. ADA had created its all-time high around the price of $3.101 in the month of September (smart contracts of Cardano was also launched during the month of September. ADA has one of the highest volume in the cryptomarket.
Technical Analysis Cardano (ADA)
During the hype of smart contracts of ADA, the price had been super bullish and it achieved its new all-time high during the month of September. After the launch, the price has been continuously making lower lowers. Where the start of Q4 had been super bullish for the price of many coins. ADA on the other hand had been creating lower lows continuously.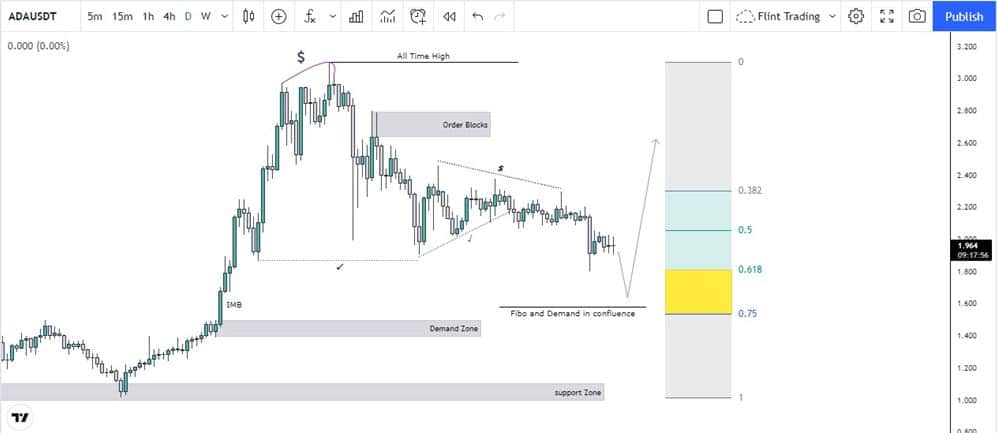 On the daily time frame, we can see that the price broke below. It has grabbed liquidity from a wick a few days back but it looks like it isn't stopping here. The best way to determine the route here is through using Fibo Tools. If a retracement tool is drawn we can see that the price is near the golden zone of the Fibo's. We can expect the price to drop down to that level and if the reversal occurs we can look for a possible long-form there. But reversals should be noticed at that point and the target can either be around the breaking of the consolidation zone of the price or the order block that is present on the upside which was the start of this bearish behavior.
Long Term Investment
According to wallet investor, ADA is a very good investment. In a one-year plan, ADA is expected to reach a price of  $4.309. In a five-year plan, ADA is expected to reach a value of $13.710 which is almost five/six times what it is being currently being traded at. As the smart contracts of Cardano has also launched it can be expected the price of ADA to go bullish as soon dApps are going to launch on Cardano.