The native token of the Zcash network is ZEC that is used as a mode of payment. At the time of writing, ZEC is being traded at the price of $167.15. The price has increased by almost 6.15% in the past 24 hours. ZEC is listed on coinmarketcap on the 66th spot and has a market dominance of about 0.08%. The past month has been extremely bullish for the price. In October alone we have seen an increase of about 55.93% in the price of ZEC. 4 months ago Egld was being traded at the price of around $83 and now it has nearly doubled from the bottom that it had created. ZEC has a limited supply of about 21M ZEC and the current circulating supply is around 12M.
---
3 Tiny Stocks Primed to Explode The world's greatest investor — Warren Buffett — has a simple formula for making big money in the markets. He buys up valuable assets when they are very cheap. For stock market investors that means buying up cheap small cap stocks like these with huge upside potential.

We've set up an alert service to help smart investors take full advantage of the small cap stocks primed for big returns.

Click here for full details and to join for free
Sponsored
---
Technical Analysis (ZEC)
On the monthly time frame, we can see that ZEC has created a bullish engulfing candle which generally is a sign of retracement. On the weekly timeframe, we can see that the price of ZEC had also rejected from this level around 31st May, 30th August, and 6th September as well. These candles faced rejection from this level and as a result, had grabbed liquidity from around this zone. On the weekly and higher timeframes we can expect the price to go up a little bit and then retrace back again. It is to notice that on the weekly timeframe the price of ZEC still hasn't broken the range and is still range bound.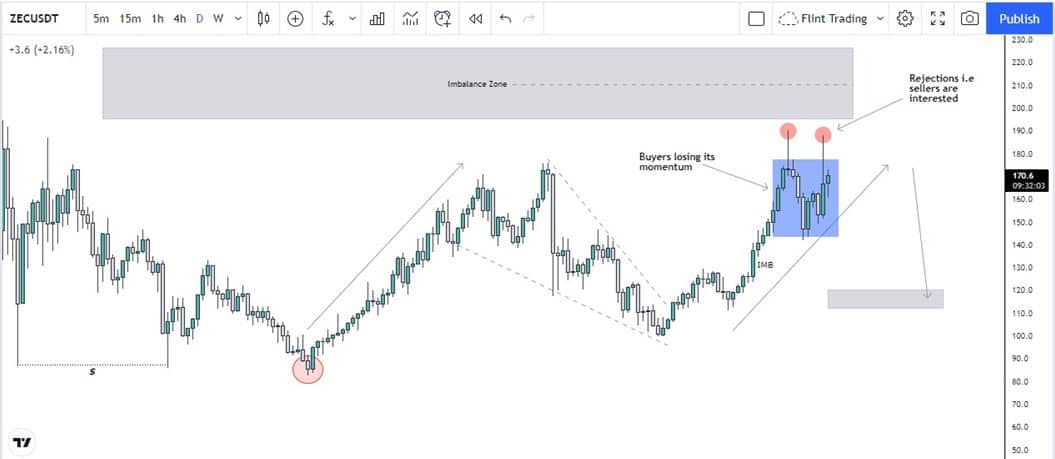 On the daily timeframe, we can see that price of ZEC has been losing momentum recently. ZEC has created equal highs and as result is forming a double bottom that will eventually push the price down. We can expect the price to go down to the level of orderblock from where the possible bounce can be expected. The price can also wick down to the imbalance present below. Hence DCA can be done here at this point to take a position.
Long Term Investment
According to wallet investor, ZEC is a very good investment. In a one-year plan, ZEC is expected to reach a price of  $230.325. In a five-year plan, ZEC is expected to reach a value of $480.970 which is almost 3 times what it is being currently being traded at. As a mode of payment Zcash surely has bright futures ahead as more and more people are joining the crypto industry.