The native token of Qtum is named Qtum itself. At the time of writing Qtum is being traded at the price of $1.973. The price has decreased by almost 2.79% in the past 24 hours. The daily trading volume of Qtum has decreased by almost 54.67% today. Qtum is listed on coinmarketcap on the 78th spot and has a market dominance of about 0.06%. The past month i.e. October just like a lot of other coins has been bullish for Qtum and we have seen an increase of about 52.28% in October. Qtum had created its all-time high around the price of $35.685 in the month of May. The maximum supply of Qtum is around 103M Qtum while the circulating supply is around 98.8M Qtum. Almost 92% of coins are in circulation.
Technical Analysis Qtum
QTUM like many other coins has had a highly bullish start to the Q4. Even though the price still hasn't recovered from the drop and is quite far away from its all-time high (around $35.68) it is making good progress. The price is above the monthly closure of May and it has confirmed its bullish sentiment.
On the weekly time frame, we can see that Qtum has continuously been making higher highs and higher lows making sure that the bullish momentum is intact here. But more details come from the daily time frame.
On the daily time frame, we can see that the price was forming a pole and flag pattern that eventually broke down and the price rallied upwards. Now, this rally has left an imbalance between the candles. This along with the fact that the price hasn't been retested call for the price to drop down a little bit so that it can create its support.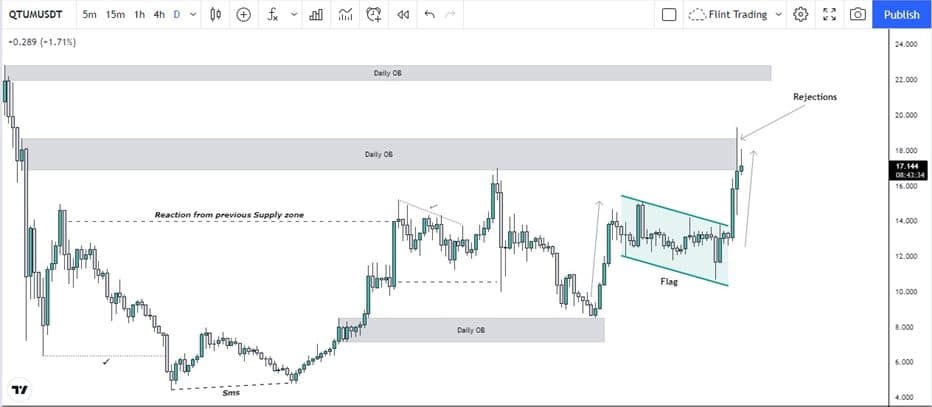 Another thing to notice here is the fact the price got rejected from the order block above. This means that the price has lost is momentum to some extent and now will probably consolidate a little bit here.
Chances are that after getting rejected from this zone, the price is going to drop to create its support. In case it holds and the price rallies again, the next stop to notice is around $23.
Long Term Investment
According to wallet investors Qtum is a very good investment. In a one-year plan, Qtum is expected to reach a price of  $23.47. In a five-year plan, Qtum is expected to reach a value of $59.378 which is almost twenty-five times of what it is being currently being traded at.