The native token of MAKER network is MKR that is used for governance and controlling Dai. At the time of writing, MKR is being traded at the price of $3200. The price has increased by almost 25.57% in the past 24 hours. The trading volume has also increased by almost 199.98% today. MKR has created its all-time high around the price of $6348 in March 2021.
Among the top 100 coins today, MKR is one of the top gainers. MKR is listed on coinmarketcap on the 57th spot and has a market dominance of about 0.11%. The past month has been bullish for the price and it gained almost 5.86%. As compared to other coins MKR had been one of the slow gainers. In May MKR was being traded at the price of around $1829 and now it has nearly done two times from the bottom that it had created. MKR has a maximum supply of about 1.0M MKR and the current circulating supply is around 991K.
Technical Analysis – MAKER (MKR)
MKR has had a rough time trying to reclaim the levels that it has lost. The last month was also slow and this month the price showed super bullish strength. The price shad bounced from the lows that it was creating i.e. during July, two times in September, and once in October (around $2200) meaning that this level is really strong.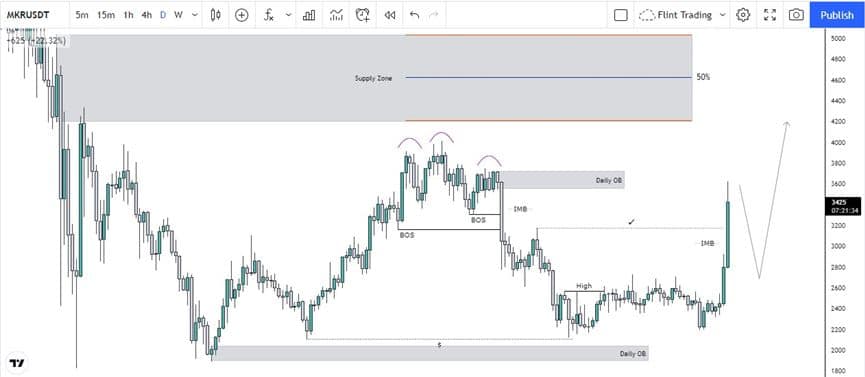 As per the analysis, MKR has followed the pattern and got above the previous lower high. This has proven that the market structure has shifted. But this move has left an imbalance in the market structure which the price might try to mitigate again. As a result, we can expect the price to mitigate the last candle before a move upwards.
As a bigger target, we can expect the price to move upwards and tap the supply zone present above. At that point, we can expect a reaction from that zone. But right now reaching that zone in a single impulsive move looks quite difficult.
Long Term Investment
According to wallet investors, MKR is a very good investment. In a one-year plan, MKR is expected to reach a price of $4970. In a five-year plan, MKR is expected to reach a value of $15099 which is between four or five times the current price.