Telcoin allows the cross border easy remittances and transaction. It uses network operators to carry out the function. At the time of writing TEL is being traded at the price of $0.02298. The price has increased by almost 17.15% in the past 24 hours. The daily trading volume has increased by almost 190%. TEL is listed on coinmarketcap on the 100th spot and has a market dominance of about 0.04%.
The past month has been extremely bullish for the price. In October alone we have seen an increase of about 14.87% in the price of TEL. During the crash, TEL was one of the coins that have suffered the most. It still hasn't recovered one-third of its all-time high. TEL created its all-time high around the price of $0.0649 during the month of May 2021. The maximum supply of TEL is around  100B coins while the current circulating supply is around 54.73B.
Technical Analysis Telcoin (TEL)
Telcoin even though has been one of the hard gainers in the market has finally showed some strength to go up. On the monthly time frame, we see that the price had a very efficient action. The support around $0.015 has been very strong and the price has respected this price on many levels.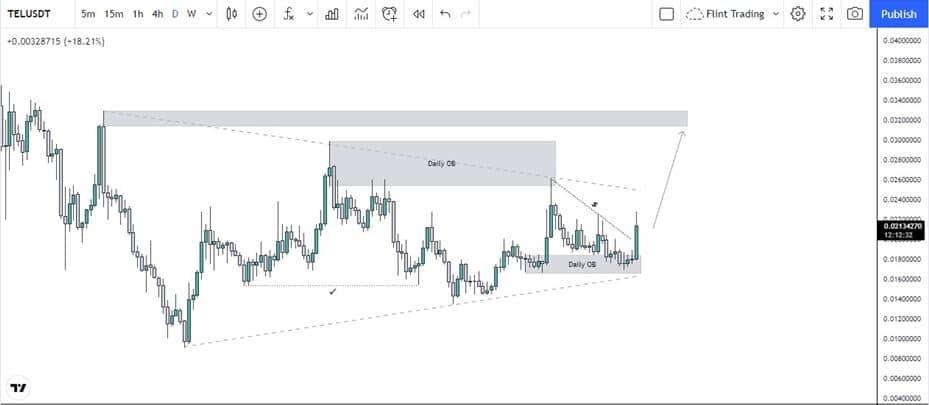 On the daily time frame, we can see that the price was following a trendline. The price had respected this trend line. After the formation of the daily order block, we can see that the price retraced back to that level. Now order blocks are very strong support zones. The price had retraced back to the daily order block but as it was a strong level the price bounced back.
Now the price has finally broken out of the trend line that it was rejecting from. Now it would be better for the daily candle to close above this trend line and a retest would be even better. Overall the price is bullish.
Long Term Investment
According to wallet investor TEL is a very good investment. In a one-year plan TEL is expected to reach a price of  $0.04. In a five-year plan, TEL is expected to reach a value of $0.133 which is almost five times what it is being currently being traded at. Telcoin has gained a lot of popularity among retailers in the past few months.