BCH is a payment system that aims t be globally acceptable by everyone. It offers small fees, fast transactions, and privacy to its users.
At the time of writing BCH is being traded at the price of $600.37. The price of BCH has decreased by almost 2.36% in the past 24 hours. The daily trading volume has increased by almost 7.88% in one day. BCH is listed on coinmarketcap at the 21st spot according to market capitalization and has a market dominance of about 0.42%. BCH has one of the highest trading volume today.
BCH had achieved its all-time high around the price of $1650 during the month of May 2021 before dropping down to the price of $383.5. Just like many other coins last month was very bullish for the price and we saw an increase of about 18.76%.
Technical Analysis Bitcoin Cash (BCH)
Bitcoin Cash has been one of the slow-moving coins. After the crash from its all-time high. The coin has moved really slow. BCH is way closer to its bottom than to the top that it created around $1650 in May 2021. On the daily time frame, we can see that the price has created a pole flag pattern. The price rallied from the bottom by creating a pole and then retraced back and completing the first part of the structure. Now we can expect the price to carry on the movement and create the next pole.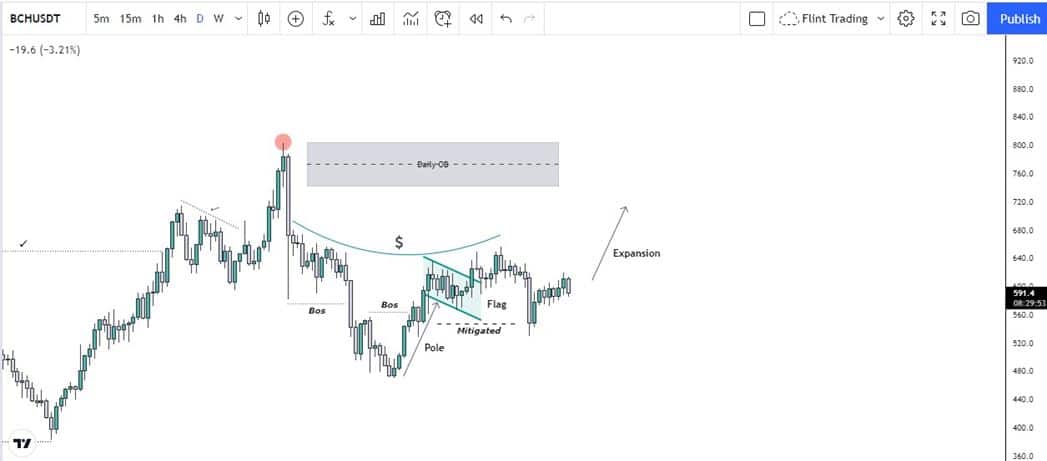 We can expect the price to touch the order block placed above. It lies around the price of $750 and $800. But right now the price is very bullish in nature.
Long Term Prediction Bitcoin Cash (BCH)
According to wallet investors, the price of BCH is a good investments and will provide good returns to the investors. According to their predictions, BCH will reach a value of $913 in one year. For a five-year plan, BCH is expected to reach a value of $2149. Even though according to their predictions, BCH after five years is still going to be around the ATH that it has right now makes you think that it is rather slow in gaining price.