The Native Token LUNA:
The native token of Terra ecosystem is LUNA. Luna is used as a governance token and keeps the value of its stable coin pinged.
At the time of writing LUNA is being traded at the price of $47.433. The price of LUNA has decreased by almost 0.23% in the past 24 hours. The daily trading volume has increased by almost 55.51% in one day. LUNA is listed on coinmarketcap at 12th spot according to market capital and has a market dominance of about 0.70%. LUNA today has achieved it's all-time high around the price of $49.86 breaking yesterday's one by a small gap, which was at $49.73. LUNA has a total supply of 968MB tokens and has a circulating supply of about 399.65B tokens. LUNA can be traded at a lot of different exchanges, such as Binance, OKEx, Kucoin.
Technical Analysis (Luna)
Luna has just created a new all-time high (even though only by a few cents, but it is what it is). Now the price is at a very particular point. The price of Luna has already faced rejection from the daily order block. This is a make-or-break position. It would take some time for Luna to break through here. But once it is done, it's going to be a beautiful ride to the sky. If the price can hold this zone, then we can expect the price to move upwards, but if it doesn't hold, then the price can tank on the higher time frames. But overall the price has definitely shifted its structure and is now bullish. As long as the price stays here to build support, we can expect Luna to achieve new highs (not by cents at that time).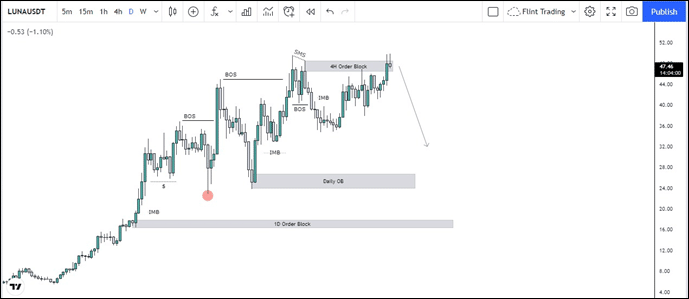 If the reversal happens, then a possible good short position can be taken here. But for that, confirmations should be taken from the lower time frames. If no confluences are seen, it is better to stay at the side.
Long Term Prediction
According to wallet investors, the price of LUNA is highly bullish in nature and is a safe investment. According to their predictions, LUNA will reach a value of $84.233 in one year. For a five-year plan, LUNA is expected to reach a value of $252.601. The fact that Terra system has created algorithm-backed stable coins as compared to fiat-based is a highly bullish project and we can see Luna grow even more.