The native token of Tron ecosystem is TRX. TRX is used as a governance token and is used to pay the transaction fees happening on the TRC-20 network.
At the time of writing, TRX is being traded at the price of $0.1047. The price of TRX has decreased by almost 2.23% in the past 24 hours. The daily trading volume has decreased by almost 6.35% in one day. TRX is listed on coinmarketcap at the 28th spot according to market capitalization and has a market dominance of about 0.28%. TRX today has achieved its all-time high around the price of $0.18 which it created during the month of April 2021. TRX has a total supply of around 100B tokens and has a circulating supply of about 71.66B tokens. TRX can be traded at a lot of different exchanges such as Binance, OKEx, Kucoin.
Technical Analysis – Tron (TRX)
TRX is one of the most bullish coins. It has had an amazing run last month gaining around 13.52%. On the weekly, it can be seen that the price is still trying to create another high.
The price gives us a clear direction where it wants to go on the daily time frame i.e. (UP ONLY!). The daily order block has been mitigated now and the price is trying to flip this level into support. The price action has been efficient meaning that the price has no visible reason to drop down now (unless BTC wants to ruin the party). Otherwise, the price is now bullish and we can target the rejection area that lies above the price of $0.15. At that point, we can expect some kind of reaction by the price and we will unlock a new range between $0.12 and $0.15.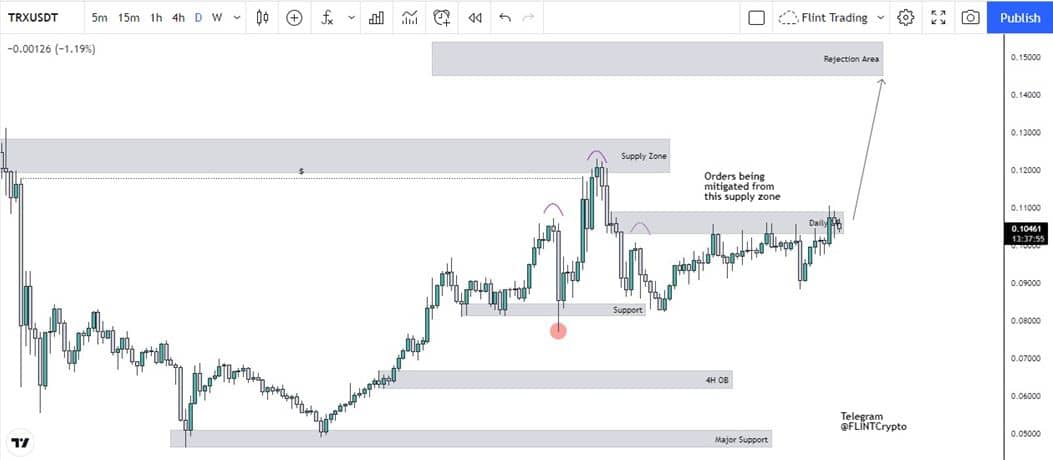 Long Term Prediction Tron (TRX)
According to wallet investors, the price of TRX is a good investment and will provide good returns to the investors. According to their predictions, TRX will reach a value of $0.163 in one year. For a five-year plan, TRX is expected to reach a value of $0.416. Tron network is one the most used blockchains and now and then new apps are launched. It can be expected of Tron to do even more than the expected levels.