Price Movement – Theta ( THETA):
THETA is a platform that allows video streaming. It is a decentralized platform where the users share bandwidth and other resources.
From Robots to Self-Driving Cars: 5 AI Stocks to Consider for Your Portfolio

The artificial intelligence (AI) revolution is already here and it's about to change everything we know about everything. With the global market for AI projected to grow from $137 billion in 2022 to over $1.81 trillion by 2030, there's never been a better time to invest in this burgeoning industry. That's why we've compiled a list of the Top 5 AI Stocks to Buy for 2023. These companies are at the forefront of the AI revolution, and have the potential to deliver huge returns to investors like you.

Get our free report, "Top 5 AI Stocks to Buy for 2023".
Sponsored
At the time of writing, THETA is being traded at the price of $7.881. The price of THETA has increased by almost 1.42% in the past 24 hours. The daily trading volume has also increased by almost 1.23% in one day. THETA is listed on coinmarketcap at 28th spot according to market capital and has a market dominance of about 0.29%.
THETA has achieved it all-time high around the price of $15.880 in April 2021. After the crash, the price fell down to a level of about $3.495 during the month of April 2021 from where it showed reversal. The last month has been bullish for THETA and we saw an increase of about 43.03% in October.
THETA has a total supply of 1.0B tokens and has an equal circulating supply of 1.0B Theta. THETA can be traded at a lot of different exchanges such as Binance, OKEx, Huobi with different trading pairs.
Technical Analysis – Theta (THETA)
Theta has quite a messy chart and a lot of stuff is happening in it. Creation of order blocks, SL hitters, Manipulation, you name it.
On the monthly time frame and the weekly time frame. The price of Theta is bullish and is creating higher highs continuously. On the daily time frame, things get interesting and we can use fractals.
We saw the price creating AMD pattern (accumulation, manipulation, and distribution). These movements have been market in the charts as well. So can we expect the same movement from Theta again?. I wouldn't be surprised if Theta did this again.
The presence of liquidity, order block, and the fractal movement all point to the fact that price would move to grab the liquidity (i.e. Manipulation) and then move on to carry out the distribution phase.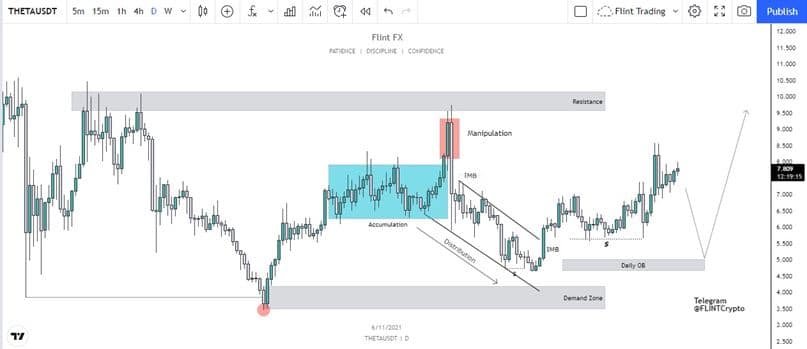 We can take the range of $9.0 and $11 to be the targets from where the price can potentially show a reaction.
Long Term Prediction – Theta (THETA)
According to wallet investors, the price of THETA is highly bullish in nature and is a safe investment. According to their predictions, THETA will reach a value of $13.847 in one year. For a five-year plan, THETA is expected to reach a value of $39.987. Overall the price of Theta is highly bullish and investors are hoping it to go even higher as the fundamentals are also strong enough to support their assumptions.