EOS is a platform that allows developers to create decentralized apps (dApps).
At the time of writing, EOS is being traded at the price of $4.52. The price of EOS has decreased by almost 1.73% in the past 24 hours. The daily trading volume has also decreased by almost 19% in one day. EOS is listed on coinmarketcap at 45th spot according to market capital and has a market dominance of about 0.16%.
EOS has achieved its all-time high around the price of $15.67 in June 2018. It later fell down to the price of $1.528 in December 2018. After that the closer it has gotten to the all-time high was around the price of $14.9 almost two years later during the month of May 2021.
EOS has a total supply of 1.038B tokens and has a circulating supply of about 962.4M tokens. EOS can be traded at a lot of different exchanges such as Binance, OKEx, Huobi with different trading pairs.
Technical Analysis – EOS Coin
The price of EOS is bullish at the moment. After the reversal, the price got tapped in the daily order block from where it faced resistance and dropped down. As a result, a newer unmitigated order block has been created above that can eventually drive the price upwards.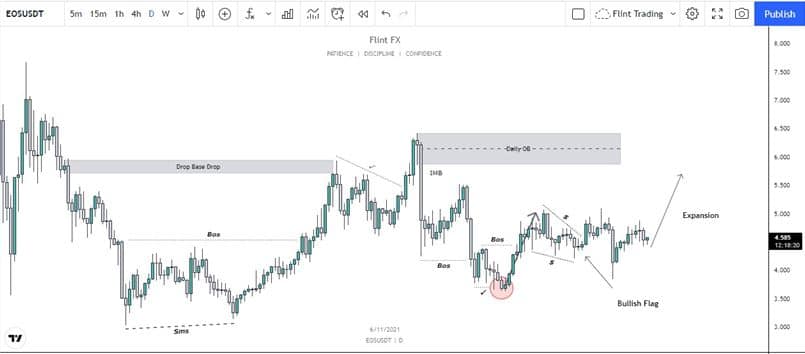 Right now the price formed a bullish flag on the daily order block which is a confluence about how the price can react in the future.
As a result, we can expect the price to tap in the daily order block. The imbalance left due to the drop in the price can also be taken as a target as the price might show some kind of reaction at that point. EOS has already attained fuel by grabbing the liquidity through that wick down. As a result, we can expect the price to tap the range of $6 to $6.5.
Long Term Prediction – EOS
According to wallet investors, the price of EOS is highly bullish in nature and is a safe investment. According to their predictions, EOS will reach a value of $6.169 in one year. For a five-year plan EOS is expected to reach a value of $12.328. But traders are highly bullish and they expect the price to be even more than this expectation.