Price Movement – Ethereum ( ETH):
3 Tiny Stocks Primed to Explode The world's greatest investor — Warren Buffett — has a simple formula for making big money in the markets. He buys up valuable assets when they are very cheap. For stock market investors that means buying up cheap small cap stocks like these with huge upside potential.

We've set up an alert service to help smart investors take full advantage of the small cap stocks primed for big returns.

Click here for full details and to join for free.
Sponsored
The second frontrunner of the whole crypto market. Yes, I am talking about Ethereum (Eth). The second biggest coin in terms of market dominance.
At the time of writing, ETH is being traded at the price of $4,750. The price of ETH has increased by almost 3.01% in the past 24 hours. The daily trading volume has also increased by almost 20.52% in one day. ETH is listed on coinmarketcap at 2nd spot according to market capital and has a market dominance of about 19.64%.
ETH before the crash had achieved it all-time high around the price of $4,372 in May 2021. It later fell down to the price of $1700.48 during the crash and showed reversal from there. As compared to other coins ETH has been one of the fast gainers and now has achieved a new all time high around the price of $4,764.64.
ETH has a total supply of 118M tokens and has an equal circulating supply of 118M coins. ETH can be traded at a lot of different exchanges such as Binance, OKEx, Huobi with different trading pairs.
Technical Analysis Ethereum (Eth)
Ethereum has once again taken the lead for the movement. Eth has created a new all time high and as a result, a lot of people have fomo'ed into the market. Ethereum has been clearly respecting the trend line towards the upside. The price action has been extremely efficient with no imbalances left. No areas have remained unmitigated that can drive the price down.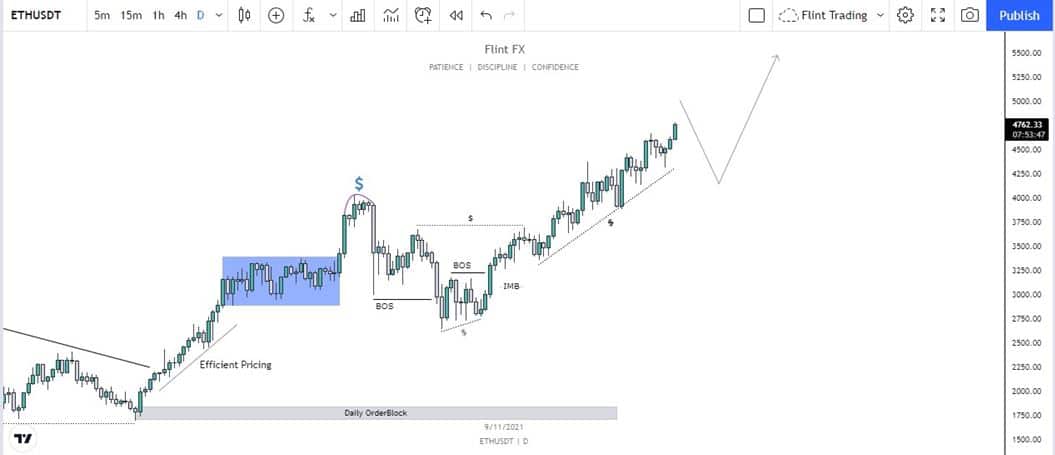 As a result, we can expect Eth to move even higher as there is no visible reason to drive the price down. Of course, the movement can't be parabolic all the time. So a reasonable expectation is to keep in mind that Eth might retrace back down and create a higher low. This will be healthy for the market and Ethereum can move higher than and create a new all-time high. This of course depends on the fact that btc dominance doesn't mess up the whole market.
Long Term Prediction – Ethereum (ETH)
According to wallet investors, the price of ETH is highly bullish in nature and is a safe investment, and will continue to lead the market. According to their predictions, ETH will reach a value of $7476 in one year. For a five-year plan, ETH is expected to reach a value of $18,535.