Price Movement – Basic Attention Token ( BAT):
Basic Attention Token is one of the most promising project. The brave browser is a highly used app that allows rewards to view ads.
At the time of writing, BAT is being traded at the price of $1.21. The price of BAT has increased by almost 15.44% in the past 24 hours. The daily trading volume has also increased by almost 725.65% in one day. BAT is listed on coinmarketcap at 81st spot according to market capital and has a market dominance of about 0.06%.
BAT before the crash had achieved it all-time high around the price of $1.5336 in April 2021. It later fell down to the price of $0.46 during the crash and showed a reversal from there. As compared to other coins BAT has been one of the fast gainers and is now on its way to create a new all-time high.
BAT has a total supply of 1.5B tokens and has an equal circulating supply of 1.5B coins. BAT can be traded at a lot of different exchanges such as Binance, OKEx, Huobi with different trading pairs.
Technical Analysis – Basic Attention Token (BAT)
BAT recently had a massive pump that led it price to show a parabolic movement on the daily time frame. The price got rejected from that level from where it had already got rejected before the crash. During this pump, an order block had been created which could be refined on the lower time frame. That level acted as a support for the price. The price bounced from that level and soon got rejected again. This means that the price is slowly losing its momentum.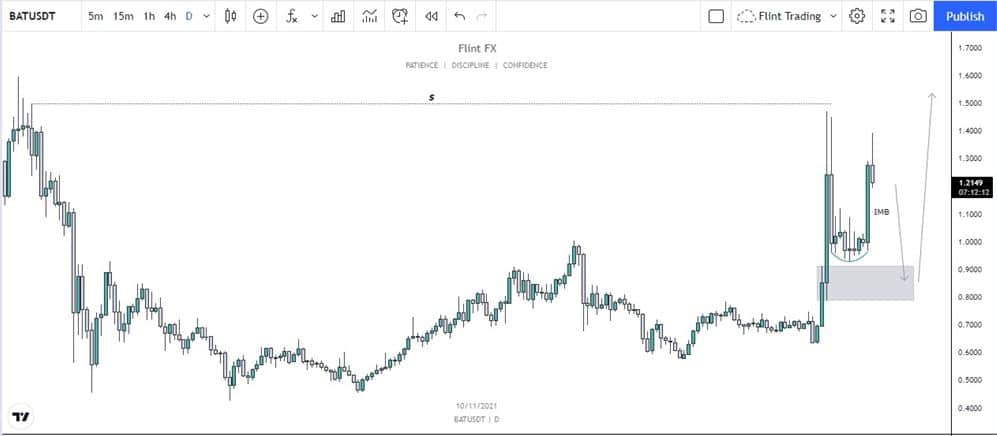 Along with the fact that there is an imbalance present in the price action would call for the price to drop down again to the same order block. From there we can expect the price to show another giant move towards the upside which initially would face resistance at that level (from where it got rejected ) but it would be cleared.
Long Term Prediction – Basic Attention Token (BAT)
According to wallet investor the price of BAT is highly bullish in nature and is a safe investment and would continue to grow more and more. According to their predictions, BAT will reach a value of $1.411 in one year. For a five-year plan BAT is expected to reach a value of $3.128.