At the time of writing OMG is being traded at the price of $19.24. The price of OMG has increased by almost 16.54% in the past 24 hours. The daily trading volume has also increased by almost 58.00% in one day. OMG is listed on coinmarketcap at 65th spot according to market capital and has a market dominance of about 0.09%.
25-cent Stock Takes $11T Commodities Sector Digital

One brilliantly-run technology firm has successfully partnered with some of the largest players in the industry to bring a first-of-its-kind digital solution to the global commodities supply chain sector. Best of all, this upstart technology firm is currently trading undiscovered — below 25-cents per share — so very, very few investors know about it yet! For investors… it's an early-stage opportunity in a company that's bringing the US$11T global commodities sector straight into the 21st century.

All the details are in the FREE online report you can get here.
Sponsored
OMG before the crash had achieved its all-time high around the price of $13.350 in May 2021. It later fell down to the price of $2.892 during the crash and showed a reversal from there. As compared to other coins OMG has been one of the fast gainers and it was not long before it created a new all-time high at the price of $20.124 this month.
OMG has a total supply of around 140M tokens and has an equal circulating supply of around 140M  coins. OMG can be traded at a lot of different exchanges such as Binance, OKEx, Huobi with different trading pairs.
Technical Analysis – OMG Network (OMG)
The way OMG has grown is remarkable. Creating a new ATH a few days ago, retracing back to complete a descending correction, and then moving again to touch new ATH is simply remarkable.
The price even though has lost a lot of its momentum due to the fall in BTC and has created a big wick on a daily time frame. But it is still moving in the direction to touch ATH again,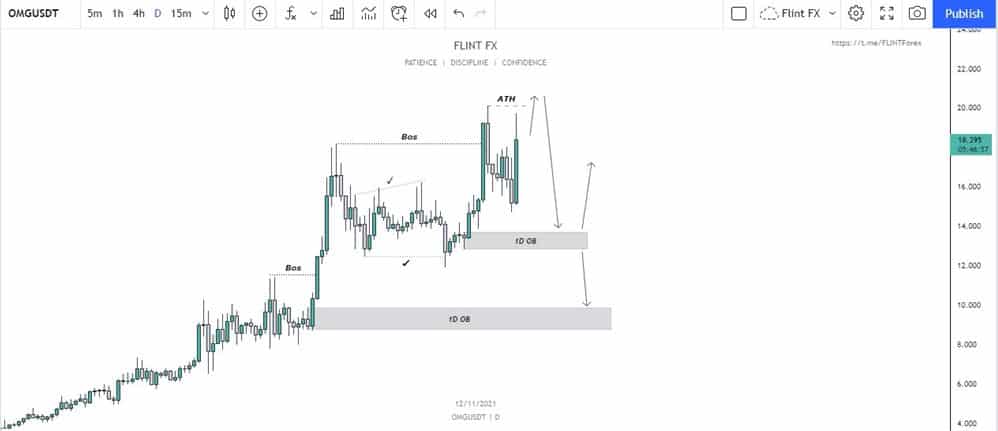 The price can move to the new ATH and can retest the daily order block formed which was the reason for this jump. If this happens and we get confirmations at the ATH about the reversal then a pretty good short entry can be taken which would target the daily order block as the final target. But time would tell how the price would react after reaching the ATH. Maybe the price just consolidates and gets ready for another leg up.
Long Term Prediction – Basic Attention Token (OMG)
According to wallet investors, the price of OMG is highly bullish in nature and is a safe investment, and would continue to grow more and more. According to their predictions, OMG will reach a value of $22.220 in one year. For a five-year plan, OMG is expected to reach a value of $47.542.