XRP has been one of the most sought-after projects. Ripple has tried their best to deliver. As a result, people were eager to invest in such a project. But after the legal battles of the XRP with the SEC, the price drastically dropped down and hasn't been able to recover from it. As a result, people are sidelined from the coin and waiting for a clear decision.
Price Change Details
The coin had created its All-Time High in April and reached a price of almost $2 before falling down to a price of almost $0.5 by losing 75% of its value. At the time of writing this article, XRP is being traded at a price of $1.2122. The price has decreased by almost 7.066% in the past 24 hours. The trading volume has increased by 24.71% in the past 24 hours.
The maximum supply is around 100B and the circulating supply is around 47B. XRP is listed on coinmarketcap on the 7th rank and has the market dominance of about 2.01%
Technical Analysis Ripple – (XRP)
Ripple (XRP) is on his way to tap the daily order block. Just like many other coins, XRP was also affected by the drop in BTC that had happened in BTC yesterday where it dropped down from $69k to $62.5k. Even though it bounced back but it took a toll on many coins and broke their momentum.
XRP has been one of those which was tapping the upper order block but got rejected and has now lost some momentum. A good healthy movement would be to expect XRP to touch the upper block again before dropping down to the daily order block below.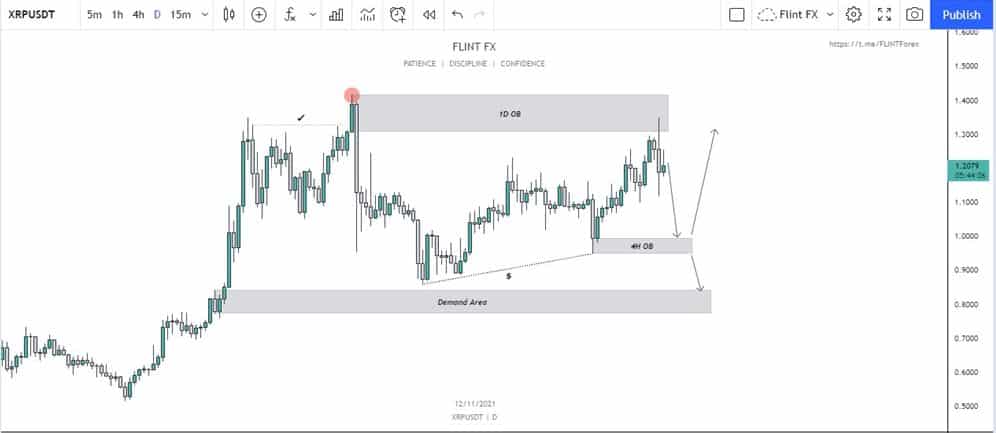 This daily order block was also the point from where XRP crashed before but overall the market structure has shifted. If we get a rejection from the order block again, we can look for a short down to the 4H order block from where the price can bounce back strongly.
Long Term Investment – Ripple (XRP)
Ripple (XRP) has been one of the strong projects fundamentally. Currently, the case is going in XRP favor. Once the final submission happens it will surely be a boost for the price and we could see a huge amount of gains in the price. According to the wallet investor, the price is expected to go to around $1.863. In five years, the price is expected to reach around $4.242.