ZCash A project that aims at anonymity. ZCash (ZEC) uses different sets of algorithms to make sure the transactions remain anonymous. It is in direct competition with Monero (XMR) but nevertheless offers good facilities in terms of anonymity.
25-cent Stock Takes $11T Commodities Sector Digital

One brilliantly-run technology firm has successfully partnered with some of the largest players in the industry to bring a first-of-its-kind digital solution to the global commodities supply chain sector. Best of all, this upstart technology firm is currently trading undiscovered — below 25-cents per share — so very, very few investors know about it yet! For investors… it's an early-stage opportunity in a company that's bringing the US$11T global commodities sector straight into the 21st century.

All the details are in the FREE online report you can get here.
Sponsored
At the time of Writing ZEC is being traded at the price of $209.76. The price has increased by almost 6.35% in the past 24 hours. The trading volume has also increased by 24.55% today. ZEC has its all-time high around the price of $372. In a single month, the price of ZEC has increased by almost 25.93%. It wouldn't be far before the price creates a new all-time high.
ZCash has a comparatively quite less supply of about 21M coins with only around 13M in circulation. It holds the 64th spot in ranking on coinmarketcap and has a market dominance of about 0.10%.
Technical Analysis – ZCash (ZEC)
ZCash after the fall hasn't been able to recover the damage that had been done to it. It showed a reversal and since then it had started printing green candles. The price was finally able to break the structure and the structure was broken but the price did show a reaction after it touched the zone. After this, once the price gained enough momentum, it went straight upwards and chances are that it is going to the order block above.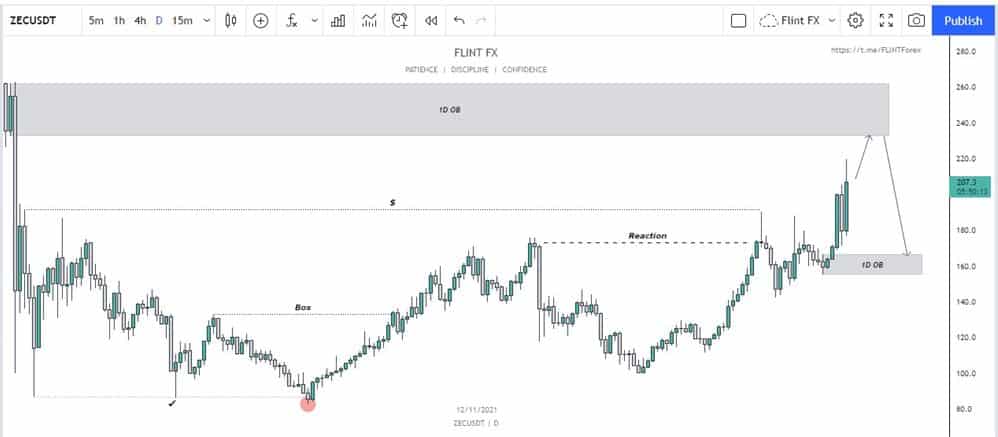 Now the price did drop due to the correction of BTC but the drop wasn't that much and OMG is still one of the top gainers today. This means that the momentum is still there and we can expect it to reach the daily order block. Once it gets there we can look for confirmation from either side. If it is rejected then a short can be opened to target the lower 1D order block. If the rejection is not found and the price instead starts to consolidate then we can expect the price to go into price discovery soon.
Long Term Prediction – ZCash (ZEC)
ZCash is a fundamentally strong project. With so much potential for it to break, We can expect ZEC to reach a much higher value. According to the wallet investor, ZEC is expected to reach a value of $217.746. In five years the price is expected to drop to around $489.912.