EOS (EOS) is a blockchain that can be known as developers' blockchain. It allows developers to build dApps easily. As a result, it provides a lot of different set of tools for the programmers to use so that they can easily develop different dApps. Outland is one example of a dApp. It's a famous game is built on the EOS blockchain.
China Can't Stop US$0.25 Stock from Mining Ultra-Rare Metal

Here's one little-known company — trading undiscovered below 25-cents per share — that's advancing one of the largest and highest quality REE deposits in all of North America... and the Chinese can't do a damn thing about it! It's early stage... and that's excellent news for individual investors like you who have the foresight to act decisively on an emerging megatrend that's already being measured in the Tens of $Billions.

Simply click here and the name & trading symbol are yours.
Sponsored
Price Change Details – EOS (EOS)
The coin had created its All-Time High in June 2018 and reached a price of almost $15.677 before falling down to a price of almost $1.528 by losing most of its value. After this damage, the price slowly started to regain its momentum and went up to $14.90 before crashing again to $3.039 in 2021. At the time of writing this article, EOS is being traded at a price of $4.86. The price has decreased by almost 1.77% in the past 24 hours. The trading volume has decreased by 25.43% in the past 24 hours.
The maximum supply is around 1B and the circulating supply is around 971M. EOS is listed on coinmarketcap on the 43rd rank and has the market dominance of about 0.17%
Technical Analysis – EOS (EOS)
EOS on many points has moved to grab the liquidity present on both sides. As a result, the price action of EOS has been highly efficient with the creation of a daily order block before the crash which has been unmitigated since then. Since it was a high price that EOS had achieved almost more than a year ago. It is difficult to say how the price will react at that point.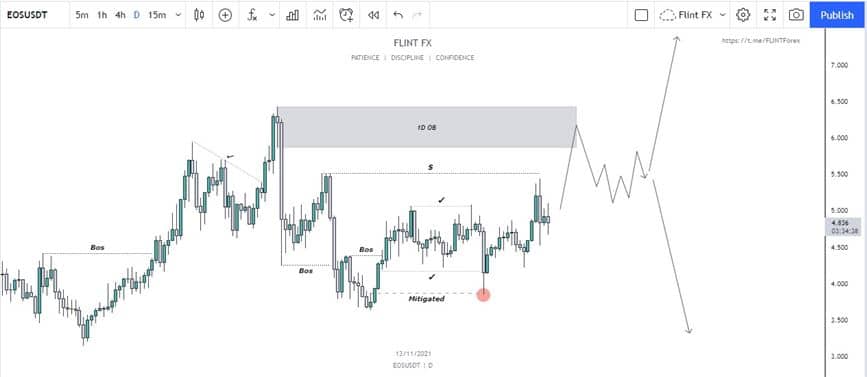 Since the order block has been unmitigated we can expect the price to rise up to that point. Most probably the price is going to reject from there and create a descending correction which would be healthy for the market. After we can expect a break out from this correction with a retest which would lead the price beyond the order block. Or in the case that the price doesn't hold the break out we can expect it to dropdown.
Price Prediction – EOS (EOS)
EOS is considered a good blockchain. According to the wallet investor, the price is expected to reach a value of $6.136 in a year and in five years is expected to reach a price tag of about $12.396.