At the time of writing NEAR is being traded at the price of $11.27. The price of NEAR has decreased by almost 6.92% in the past 24 hours. The maximum and minimum of the day are around $12.64 and $11.17. The daily trading volume has also decreased by almost 27.40% in one day. NEAR is listed on coinmarketcap at 38th spot according to market capital and has a market dominance of about 0.22%.
NEAR before the crash had achieved it all time high around the price of $13.230 in October 2021. Before the crash NEAR had a price of $7.336 before it dropped down to $1.546. As compared to other coins NEAR has been one of the fast gainers and it was not long before it created a new all time high in October and the monthly candle closed at $10.157
NEAR has a total supply of around 1B tokens and has a circulating supply of around 540M coins. NEAR can be traded at a lot of different exchanges such as Binance, OKEx, Huobi with different trading pairs.
Technical Analysis – Near Protocol (NEAR)
Near Protocol has broken its structure on the daily time frame. We can see that the price has been moving up creating higher highs and lows. At the same, it was respecting a trend line. But a few days back, the price failed to create a new higher high and the price fell down.
This was a sign of the structural shift. Now there are two important zones that need to be considered. There are two 1D order blocks that can drive the price down. We can look for a possible bounce from the first order block. If we don't get confluence, the price can possibly drop the even lower order block.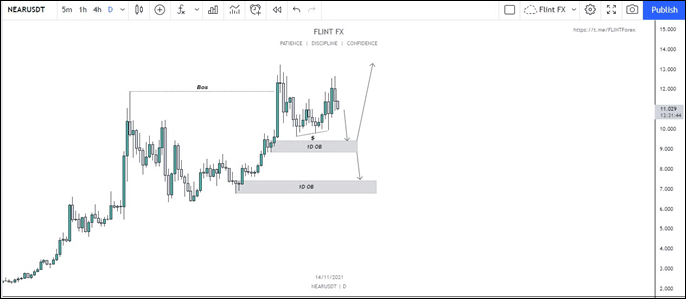 But it is very less likely that the price would go down to that level. Overall the price is bullish for the coin and soon we can expect NEAR to go even higher and cross the all time high.
Price Prediction – Near Protocol (NEAR)
Near Protocol is a highly good investment. According to wallet investor NEAR is expected to reach a value of $16.805 in one year. In five years NEAR is expected to reach almost $43.041. But investors think that the price will go much higher than the one which is expected.